Home Improvement Stores
With 46 home improvement stores in 28 cities from Chile to Colombia and $640 million in annual sales, Sodimac SA., based in Santiago, Chile, has become South America's leading retailer of home improvement products.
The company has nearly 50 years of experience in marketing home improvement products to consumers, home builders, remodeling contractors and large commercial builders. To serve these three different markets, Sodimac has created three separate venues.
Homeowners may choose from a wide variety of hardware, decorating and other products for the home at either Sodimac Homecenter stores or Sucursales Sodimac neighborhood hardware stores. Another format, Sodimac Constructor, is designed to serve professional remodelers, contractors and small, independent builders. And Sodimac's wholesale division serves major construction companies, large contractors, hardware stores and industrial clients.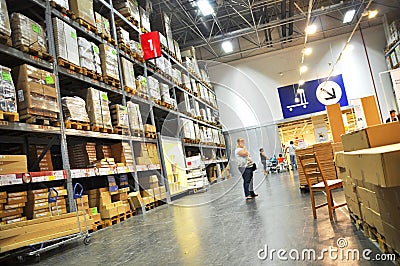 "In those three market segments, we are the leaders in Chile," says Sodimac President and Chief Executive Officer Guillermo Aguero. Sodimac will have to rely on its years of experience in the market, because it now faces competition from the world's largest home improvement retailer. Home Depot's first store outside the United States and Canada opened in Santiago, Chile, last year. More stores are planned for Chile and Argentina and eventually other markets in South America.
Chile does not have a well-developed do-it-yourself market because labor is cheap. Most middle-class homeowners buy the products they want and have contractors do the work. However, do-it-yourself projects are growing in popularity among people with lower incomes.
After decades of success with its Sucursales Sodimac neighborhood hardware stores (currently there are 20 of these stores in Chile), the company decided to expand the Sodimac name to large home centers with a broader array of products.
The Sodimac Homecenter concept was introduced in Santiago in 1987.
During the past decade, the format has evolved from 43,000-square-foot units to stores that are between 85,000 and 115,000 square feet, which offer a wide variety of building materials and decorating items for the home and office. In 1997, with 13 Sodimac Homecenter stores, the format earned $332 million in sales, a gain of 18 percent over 1996.
By the end of 1997, Sodimac had built or remodeled seven Homecenters as the company continued to update and expand the selling space of its warehouse home center stores.
Service is one of the keys to Sodimac's success.
Employees receive retail sales and product training in addition to taking other training courses and seminars. The stores also stay open longer hours and seven days a week for customers' convenience.
Sodimac has made shopping for home improvement products more convenient for customers with the Sodimac credit card. The credit card has proven to be a major contributor to increased sales among consumers, accounting for 33 percent of retail sales, Aguero says. Sodimac credit card purchases totaled $72.8 million in 1997, up 18 percent compared to the previous year.
To give card users better service, all new stores built or remodeled since 1997 have a special service desk to handle card users' questions. Customers can check their account balance, make billing inquiries and receive payment slips. Sodimac estimates that 1.3 million people will be Sodimac credit card holders by the year 2000.
Sodimac is exporting its Homecenter format to Colombia with help from its Colombian partner, Corona Group. Last year, Homecenter Sodimac Corona opened its fourth store in Bogota, Colombia. These stores typically offer about 70,000 square feet of selling space and 25,000 products. Two additional stores are planned for Colombia in the coming year, one in Bogota and one in Call, Aguero says. Sodimac Corona hopes to open two stores a year over the next four to five years.
Sodimac is also looking to expand elsewhere in South America.
The company plans to open a Homecenter Sodimac in Lima, Peru, the first of three stores to open in Peru over the next two years. In addition, Aguero says, Sodimac plans to open a store in Argentina early in the year 2000. For other future expansions, Sodimac is studying opportunities to open stores in Venezuela and Ecuador, according to the company's annual report. The report says the company is also analyzing an entry into Bolivia and expansion into other member countries of the Southern Cone Common Market, which includes Argentina, Brazil, Paraguay and Uruguay.
The company has had great success with its Sodimac Constructor format, which offers a wide array of lumber, building materials and other home improvement products and tools. Recognizing that contractors are pressed for time, Sodimac Constructor stores stock inventory in drive-through aisles, where customers can quickly load materials.
The company built or remodeled four Sodimac Constructor stores, and in August 1998, Sodimac opened its fifth store in Santiago in the Huechuraba borough. Featuring a 100,000-square-foot, drive-through lumberyard attached to a 10,000-square-foot hardware store, the Constructor store targets one of the city's fastest-growing areas.
The company has developed a showroom to give large commercial and industrial customers a look at new hardware and commercial construction products. Called CENEX Sodimac, the product showroom also has a business center for special meetings and other services.
And following up on the success of home-related shows in the United States, Sodimac recently launched Chile's first television program for do-it-yourselfers. Called "Do It Yourself," the show airs every Saturday morning on TVN Chile, offering project and product advice on gardening, wallcovering, painting, barbecue and more.
Building on success: Chile's Sodimac expands to new international markets
3

out of

5
based on
130
ratings.